- Master
The specialist deep diver.
This program will show you that your limits are further than you expected. With the internship-like structure, the Master is designed to maximize your performance. It will give you freediving experience in the major disciplines of Constant Weight, Free Immersion, Unassisted and Static.
Learn more advanced equalization techniques (mouth-fill) and perfect all your skills to become an independent and safe deep freediver.
This 4 to 5 weeks program is tailor made to your needs. We treat every Master individually designing personal training schedules. You will learn how to train yourself and prepare for competing.
It is also a first step to a professional career, since all Masters assist instructors during courses.
Get confident by training everyday supervised by the most experienced coaches in Bali.
The Master program includes 5 weeks of training (24 coaching sessions), diving on the deepest platform in south-east Asia, personal training routines, physical preparation in the water and advanced stretching.
You will have an instructor supervising and advancing you on every diving sessions , also pre dive briefing and a debriefing.
There is no depths limitation for the master programme.
Book Now
---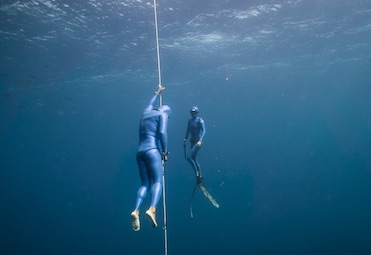 - Our Specials
01
Photographer on request
Your memories in pictures
Check availability for a professional photoshooting with Eli Dipp and get an unforgettable memory of your freediving experience.
02
Extend your limits
One on One
Add a coaching session after your course and get a special price. Just an in water session to maximise your skills. More info here.
03
Free Wreck Fun Dive
World War Shipwreck
Because we love it, we want to share it with you. Enjoy a fun dive at the USAT Liberty wreck with us after you finish every free diving course with us, a unique free diving experience. Only at Apnea Bali.
- Contact Us
Book your freediving experience now! Ask about our courses and programms, we are happy to help you. We will get back to you in less than 24 hrs.
- Write Us