- Master
The specialist deep diver.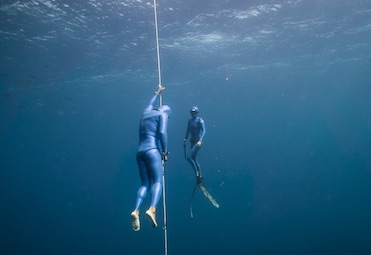 Duration: 4weeks (20 sessions)
This program is a game-changer in everyone's freediving career as it is always a good time to join it. You can start it right after your wave 2 course ( aida3, SSI 2), if you are already a deep diver, even if you are already an instructor looking to improve your skills.
This course is adapted to the needs of our students individually. Our experienced master instructors will plan each of your sessions according to your individual goals. During your sessions, your instructor will provide safety and feedback in every dive so the progress is always continuous in the safest way.
One of the main goals of the master's program is that you understand how to become an independent freediver, go deeper, plan your sessions, safely approach your depth goals, and the most important part to have FUN in the process, never forget to enjoy it.
We guarantee that we will provide instruction with the most up-to-date developments in freediving that together with our years of experience will guide you to maximize your potential and achieve your goals.
The master course is a 4-week (3 days of training and one mandatory day off ) that includes the following:
2 pool sessions (STA, DYN, DNF, mono fin technique, safety)
Complementary training in the pool applied for depths
2 Dry exercises sessions: EQ and Stretching for deep diving.
Deep safety class
Gym/workout routine to complement your training ( to do at home)
* you can also choose to assist our instructors during a beginner course if you are thinking on taking the instructor course.
YOU DONT HAVE ENOUGH TIME.. ???
Don't worry, you can join us for a half master course which can be done in 2 weeks (this program doesn't include wave 3 cert)
To join either program (half or full), you must have second level certification (Aida 3, Advanced, wave 2, SSI 2, or equivalent) and you must dive comfortably to 20m.
Book Now
---
- Contact Us
Book your freediving experience now! Ask about our courses and programms, we are happy to help you. We will get back to you in less than 24 hrs.
- Write Us