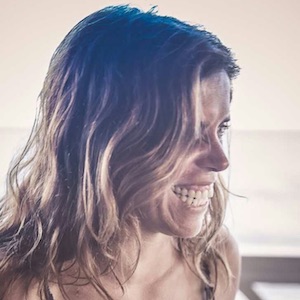 - Julia Mouce
Coach & Instructor Trainer
It's not only her years of experience in freediving, setting up successful schools in Asia or her accomplishments as a coach, instructor trainer or athlete that make Julia a well-known name in our freediving community.
Certified SSI, AIDA, Apnea Total and PADI Freediving Instructor.
Apnea Total and PADI Freediving Instructor Trainer
Double National Record holder for Argentina in CW and CNF.
AIDA International Judge
Owner of renowned training center Apnea Bali and Freedive Air.
Has coached successful athletes such as Thibault Guignes, Miguel Lozano, Aolin Wang.
But it's her vibrant personality, empathy and thoughtful approach to everyone she works with, that make people from all over the world come back to get trained by her personally.
Julia is well known for her keen eye to detail, be it under water when coaching athletes such as Aolin Wang (Chinese National Record holder) or when organizing competitions of the highest standard at her school Apnea Bali in Tulamben.
As one of the most experienced Freediving instructors in Asia, Julia's love for the sport reaches a long way back, and she's successfully introduced hundreds of people to freediving in Thailand, Egypt and Bali. Many have kept her counsel over the years and have gone on to become successful instructors themselves.
---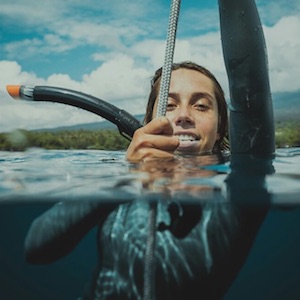 - Eli Dipp
Coach & Photographer
Eli is a passionate free diving coach and underwater photographer who believes that free diving is the most natural way to enjoy the underwater world and is an activity that absolutely everyone can enjoy, regardless the level.
Her interest for the sea and its inhabitants make her cross the world to start her Freediving life in Indonesia, where she fell in love with the sport and co-found the world renown free diving school Apnea Bali.
Since then her passion for the marine life and photography grown on her, with a special interest for exploring and portraying the most amazing underwater sceneries and animals in the world.
She is a young an promising photographer who's portraits of freedivers, mantas , sea lions and her lately Humpback whale collection have catched the eye and recognition from the free diving and photography community, Having taught Freediving for the last 5 years, she is loved between her students, and grow experience teaching all Freediving levels from beginner to deep divers.
- Contact Us
Book your freediving experience now! Ask about our courses and programms, we are happy to help you. We will get back to you in less than 24 hrs.
- Write Us