- Instructor
Turn your passion into a career.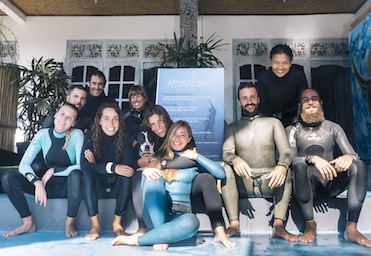 Molchanov Instructor Course
The design of the course will introduce you to the Molchanov system and help you gain the knowledge, skills and teaching techniques to be ready to teach in a professional, competent and confident way.
During the course you will:
Become familiar with the standards and materials.
Build on your Instructor-level theory and role-model in-water skills necessary for teaching freediving courses.
Learn about student control and the organizational aspects to safely conduct a freediving course.
You will, through different scenarios, gain the confidence to anticipate and identify the mistakes and problems you will encounter when conducting freediving
courses and counsel your students to overcome them.
Gain knowledge of the other aspects related to teaching freediving. responsibility, risk management, marketing and freediving as a business.
Be expected to demonstrate role-model awareness and conservation for the marine environment during freediving activities. This is a performance based course and candidates are held to a high standard.
On this course you are expected to have the right attitude to become a freediving instructor, an in-depth knowledge of theory, exemplary freediving skills and experience prior to registration.
Prerequisites:
Have a wave 3 certification star course or equivalent (SSI3 / A4..)
First Aid/CPR certified within the last 2 years.
Requirements to be certified:
Comfortable 40m CWT and FIM
Conformable 30m CNF
Rescue from 25m + 50m surface tow
100m DYN
60m DNF
Static 4min
15m Stand-by rescue (min 60s)
CO2 dive
Exam
* You have 1 year to complete all requirements.
Duration approximately 10 days.
Book Now
---
- Contact Us
Book your freediving experience now! Ask about our courses and programms, we are happy to help you. We will get back to you in less than 24 hrs.
- Write Us