- Discover Freediving
Explore the water.
The Discover Freediving course is specifically designed for those wanting to have their first freediving experience in the water, without the commitment of enrolling in a course.
Half day including:
Introduction to freediving
Breathing exercises
Breath-holding exercises
Session to a max. depth of 10 meters
Personalized teaching
Relax and fun environment
Let the instructor drive you into your first free diving experience without the long hours of theory session. Enjoy the learned techniques during your holidays and snorkel safely. Surprise yourself with amazing results.
Book Now
---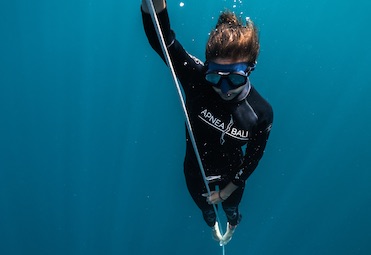 - Our Specials
01
Photographer on request
Your memories in pictures
Check availability for a professional photoshooting with Eli Dipp and get an unforgettable memory of your freediving experience.
02
Extend your limits
One on One
Add a coaching session after your course and get a special price. Just an in water session to maximise your skills. More info here.
03
Free Wreck Fun Dive
World War Shipwreck
Because we love it, we want to share it with you. Enjoy a fun dive at the USAT Liberty wreck with us after you finish every free diving course with us, a unique free diving experience. Only at Apnea Bali.
- Contact Us
Book your freediving experience now! Ask about our courses and programms, we are happy to help you. We will get back to you in less than 24 hrs.
- Write Us